2019 Dr. Lisa P. Collins Outstanding Staff Awards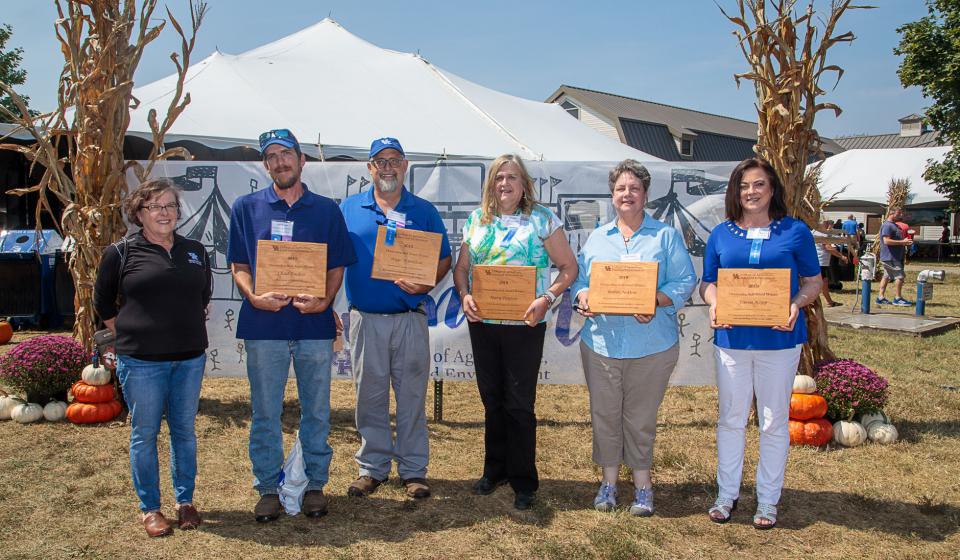 The College of Agriculture, Food and Environment Outstanding Staff Awards Program began in 1998 and is sponsored by Gamma Sigma Delta Agriculture Honorary Society, UK AG and HES Alumni Association, and Partners in Agriculture.  The recognition program is held annually as part of the Staff Appreciation Day during Roundup week.  Each year up to seven individuals are honored for their dedicated, steadfast, competent and outstanding service to the college.
The 2019 Outstanding Staff Awards were held on September 11, 2019.
Congratulations to the 2019 Outstanding Staff Award Recipients:
Executive/Administrative/Managerial/Non-Professional Category
Mary Payton, UK Veterinary Diagnostic Laboratory
Chris Rodgers, Department of Plant & Soil Sciences
Office and Clerical, On-Campus Category
Robin Notton, Department of Animal & Food Sciences
Office and Clerical, Off-Campus Category
Eileen Kopp, Cooperative Extension- Laurel County
Service, Maintenance, Skilled Crafts, Farm Management Category
Chad Tucker, Department of Veterinary Science
Technical/Paraprofessional Category
Hugo Hamilton, Department of Animal & Food Sciences
Kai Su, Department of Plant & Soil Sciences